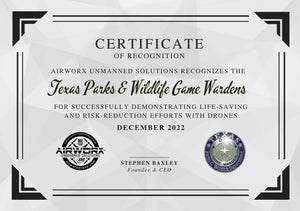 December 2022 | Texas Parks & Wildlife Drone Program
Airworx is proud to recognize and honor the Texas Parks & Wildlife Game Wardens as our December 2022 Agency Success Story!
TPW is not new to the drone / UAS world, their incredibly robust program has been successful for many years. 
Recently a success story was released regarding Warden Hummert - one of 50 active pilot / operators at TPW - saving multiple lives in a span of less than 10 days, by locating missing persons using his Autel thermal aerial system. Then shortly after that, Warden Williams located a shooting suspect, thereby reducing risk and likely saving lives indirectly. 
Airworx has been incredibly fortunate to work with TPW and support their team with equipment and we have learned so much about their operations. 
Below we are outline just how robust the TPW drone program really is...hold on to your (cowboy) hat!
PROGRAM CREW AND SYSTEM OUTLINE
50

Active

 Law Enforcement Pilots (many more trained, but not active)
70 UAV Systems 
2022 OPERATIONS STATS
FY22

Flight hours = 863.0 hrs.
Missions = 276
Hosted 4 – 40 hr. Basic RPIC schools, with Part 107 cert as a prerequisite to attend
MISSION TYPES
Search & Rescue
Boat Accident Investigation/reconstruction
Crime Scene Documentation
Criminal Investigation
Disaster Assessment
Drowning Recovery
Fire Fighting (primarily wildland fire support)
Fatal Traffic Accident (assisting other State and local agencies)
Felony Manhunts
Media / Photo Support
Tactical Overwatch, Recon and Indoor Flight
Training Support (Cadet Class, Field officer training, and Specialty Team training)
Border Security
Program / Demonstration
Resource Protection (Texas Parks and Wildlife core mission)
Wildlife Surveys and Rescues

UAS RPIC specific training and deployments with other TPWD LE Spec Ops teams

K9 tracking
Swift Water Rescue
Rural Operations Group [tac]
Boat Accident Reconstruction
ADDITIONAL DETAILS
Law Enforcement RPICs are part time/extra duties to their regular Game Warden or Park Police Officer duties

These pilots and drones are stationed all over Texas

UAS program is managed by a fulltime RPIC / Supervisor from within TPWD Aviation (legacy manned aviation)

UAS Program Supervisor also serves as a Tactical Flight Officer onboard helicopter

UAS regularly fly joint missions in shared airspace with TPWD and other agency helicopters
90% of the Game Warden UAV Fleet is donated equipment through the Gear Up for Game Warden Program
>>> HAVE A SUCCESS STORY? Let us recognize your agency. Complete our form here now:
https://forms.gle/xVLgYtnQKoV3Xkzs9
---